Welcome to Step by Step Creche…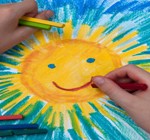 Step By Step Crèche and Montessori is a purpose built childcare facility and was established in 2003 by Monica Cronin (Mont. Dip.).
We are an all-round childcare provider that offers parents a wide selection of services, from babies, toddlers, pre-school and to children of school going age. We also provide collection service for older children from local schools.